When it comes to taking photos of big shiny metal objects, there's quite a bit of strategy that comes into play. Certainly, there are tons of interesting options and techniques that can be applied, but you just have to know about them. Hopefully this list gets you a bit more prepared for prime time at your next car show.
You can also take advantage of these pointers to ensure you create a great listing for your car whenever you are selling it. Many people don't realize that the pictures you take can make a huge difference in how quickly your car sells and for how much.
Jump to section:
3. Don't always listen to tip 2
6. Let it free
10. Have fun with it
11. Be safe!
Tip 1: Choose the Right Spot
If you're shooting at your local auto show, you may not have the option to choose the location. However, if you do have the luxury of choice, don't just take it down to a parking lot or the side of the road. Try to find some great spots with character in the background that will bring out the vehicle's attitude. See if there are some wooded parks nearby or perhaps a great building that exudes modernity that would compliment a slick new vehicle. For instance in the photo above, Robin Vet uses the classical church styling to bring out the same in the MG.
Tip 2: Shoot at the Right Time
Most people who have done photoshoots before understand the concept of the golden hour and it's definitely not something to ignore. Not only will it help with dampening some of your reflections (see tip 5), but it adds a bit of warmth and texture to whatever you are shooting. It will also make balancing the image easier. Take note and try to take advantage of either the hour after sunrise or the one right before sunset to get that ideal lighting. This great shot of the Ferrari right as the sun is going down gives it that nice warm feeling and really brings out the detail in the back of the car. It almost feels like you could touch it! Shot with f/5.6, ISO of 200, and 1/500s shutter.
Tip 3: Don't always listen to Tip 2
Just because the golden hour has a lot of perks doesn't mean you always need to use it or follow the rules. Take the shot of the Land Rover above. Though shot at a similar time, rather than warm the shot the direct sun acts as a bit of a wash out. This gives the image a very different feeling to it. The color of the sky somewhat mixes in with the sand here and makes the white of the paint stand out. Always remember there's never one way to it! That was shot with f/11, ISO of 100, and 1/40s shutter.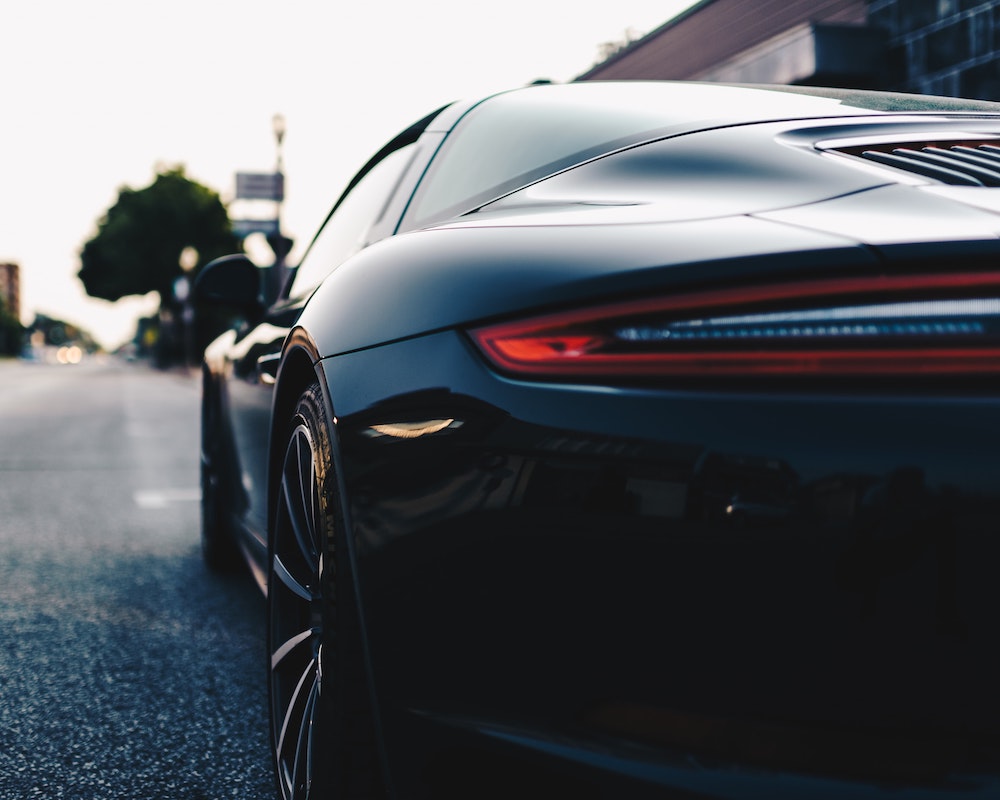 Tip 4: Shoot Cars you Appreciate
This may not apply to all those who photograph in this industry but I tend to think that people perform their best when doing things they're interested in and excited about. I expect most photographers who are out capturing the essence of automobiles have some background in the industry and probably appreciate their fair share of them. I know I certainly do. So take that passion and apply it to your craft. Certainly you won't always get to choose what you shoot and a job is a job. I expect after a while though you can probably find your niche that you really shine with. Focusing on them will allow you to learn the ins and out and those special angles that no one else does. That will give you a leg up over the competition. I know for me, it's definitely Porsches and specifically the 911. I don't always get to shoot them, but I do love when I can.
Tip 5: Note the Details
The great thing about Trucks is they have some many little details that can make or break their overall styling. Don't be afraid to move away from the full body shot and into the little accents that make the vehicle great. Going back to the Porsches, one of the coolest parts are the rear brake lights. The image above ignores all the other great things about the car just to put a hard focus on a minor detail. These can be very powerful.
Tip 6: Let it Free
Automobiles all have their own personalities and are designed to live very different lives. Your Jeep Wrangler was built for the forest and driving through mud, but your Hyundai Elantra wants to get you to and from work. Let those personalities loose when you go for the car photoshoot. Don't skimp and leave the jeep in a corporate parking lot! Conversely, the Elantra probably doesn't want to be out in the desert somewhere...
Tip 7: Keep it moving
Action shots are particularly important because that's what they're supposed to be doing. Get a partner to move the truck around a bit while you snap some photos from afar (safely). Lengthen your shutter speed a bit to ~1/50-1/100s and let it rip! The great shot of the Panamera here was taken with f/1.6, ISO 160, and 1/80s shutter.

Tip 8: Watch Out for Reflections
It takes about 5 seconds of being around a subject with a camera before you notice this issue. In the picture above you can clearly see me squatting to try and get a shot of this Nismo GTR with the original right hand drive configuration. Whoops. Cars are incredibly reflective and shiny and cause all sorts of issues with reflections. This is where lighting and surroundings can play a big part in the end result. If you're right next to a bunch of people, you might see them in the reflection and ruin the picture. When considering yourself, it's probably better to use a tripod or shoot from further away to avoid being accidentally added to the photo. Shooting from above or different angles will also help you out with this issue. Use the angles of the exterior body to your advantage and shoot against the grain to avoid direct reflections.
Tip 9: Shoot from Afar
Not all things are best viewed from up close. Take advantage of the surroundings and background to really fill the image and build out the scene. By using a telephoto lens and shooting from a decent distant back, you can bring out the background of your shot. This is obviously more difficult or even impossible if you're using your phone as a double for a camera. Although some phones are coming with multi-lens options which allow for tighter long shots. There are also attachment lens for phones you could use to extend its capabilities.
Tip 10: Have Fun with It
Taking pictures is of course more art than science and there should be some spontaneity and fun involved! If there's something interesting about where your are, or anything that might add to the character, throw it in there. Think outside the box and add some flair. Maybe you'll find your signature shot in the process!
Tip 11: Be safe!
This is a bit obvious but in the case of shooting a large operating vehicle, things can always go awry if you're too focused on the camera and your shot. Always be aware of your surroundings and remember that if the car you're shooting was able to get there, it's likely there others will be able to as well! It's not just yours you have to look out for.
If you're having some troubles finding a good place to find subjects for photos, check out the car meets near you . Here's a Guide to Finding Car Meets if you're not quite sure what you're looking for!
Other Related Articles:
- How to Spot a Car Enthusiast?
---