Greetings,
Not to sound like a broken record, but we're singing the same tune: used car prices continue to head south. Read on to discover how this market factor is pouring salt on Carvana's wounds and what dealers can take away from the situation.
Meanwhile, new data shows dealership employee earnings and hiring/departure information. There's also a report about what's happening in the service department.
Cheers!
Market At A Glance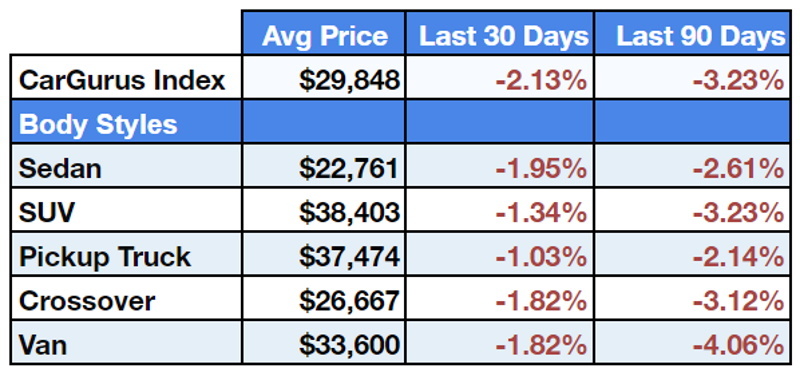 CarGurus
Breaking Headlines
Dealer Essentials
How Dealers Can Learn From Carvana's Debacle
Carvana was once the poster child for how technology could interrupt a staid industry. However, the online auto retailer now serves as a reminder that no amount of "technowizardy" can overcome auto business fundamentals. This is evidenced by a stunning 95% decline in the company's stock value over the past year. In the same breath, you'll find some financial pundits mentioning Carvana and bankruptcy.
Rising consumer borrowing costs and inflation have undoubtedly impacted sales, but Carvana's inventory issues are really affecting its balance sheet. According to Seeking Alpha, the company grew the value of its inventory from roughly $1 billion at the end of 2020 to about $3.2 billion by the end of last year. That adds to over $2 billion of used car inventory purchased during the market's peak.
But adding insult to injury are further interest rate hikes and a likely recession ahead. One research firm predicts a 98.1% chance of global financial troubles sometime next year. And let's add in the steady decline of average transaction prices for pre-owned vehicles. Talk about bad timing on Carvana's part. The company's November 3 earnings call may be one of the most significant in its decade-long history.
While most dealers don't have to worry about the pressures of being publicly traded, they can learn from Carvana's dilemma. Now's the time to assess inventory levels and develop plans for what may lie ahead. Is your business sitting on expensive offerings? What will customers buy in the face of a recession and higher loan costs? These are just some of the questions to ask now, not in 2023.
Dealership FYI: Employees Earn More and Are Less Likely to Leave
The National Automobile Dealers Association (NADA) released a study that reveals what's going on with employees and dealerships. The 2022 NADA National & Regional Trends in Compensation, Benefits & Retention Report uncovers some eye-opening results about salaries, benefits, and turnover. Here are some highlights based on 2021 data collected from participating dealerships.
The average dealer employee earned 27% more in 2021 than the prior year.
Employee turnover last year declined by 34%, the lowest level in the 11 years NADA has been conducting this study.
Dealers reported a 10% reduction in staffing during the pandemic, with average staffing levels at the end of 2021 rising to just 74 employees from 71.
Gen Z hires at new car dealerships held steady at 29%, while Millennials (Gen Y'ers) made up 44% of new staff (a 2% increase over 2020).
60% of all dealerships offered a Health Savings Account (HSA) to employees last year, with 69% of these businesses making HSA contributions.
Service Departments Produce Mixed September Numbers
Cox Automotive's Repair Order Volume Index reports that franchised dealer service departments saw 7.1% fewer repair orders in September compared to August. That's a 1.4% drop from the same time last year. But don't take that fully as bad news because while the number of repairs declined, the average repair order amount rose by $1. The increase may not seem like much, but it puts the Repair Order Revenue Index at its highest recorded level. On a YoY basis, revenue is up by 11.9%.
A Free Vehicle Runlist of Local Sellers
A new opportunity for an edge on the competition with unique insights into local private vehicle trade-ins, prices, and volume.
Every day, we see dealers spending more of their time searching for local vehicle opportunities. The problem is typical sources miss out on sellers who aren't willing to create a full listing for themselves. Not to mention the time and additional cost it takes to sift through it all.
We're launching our free runlists to solve this problem. Signup and receive daily emails with an exclusive list of vehicles from local sellers looking for dealer offers. Get pricing insights so your store stays competitive in your area, and bid by email for those that catch your eye.
If you want to stay ahead of the competition and view, track, and bid on cheaper local inventory, subscribe here for early access to our Daily Runlists !

Advertise with Us || View Dealer Site || Apply to be on our Podcast