Greetings,
Hard to believe we're in the home stretch of 2022. Along with declining used car prices, the new quarter brings automaker sales reports (good for some, not good for others). At the same time, the numbers reveal a mixed bag for CarMax. We also examine how Costco gets creative with automotive discounts and why one Porsche dealer is crying foul against the mothership.
Enjoy the read. Cheers!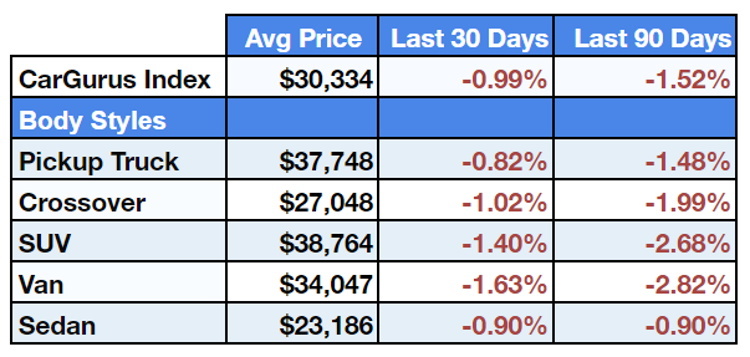 CarGurus
A one-week $105 drop in the average price for a used car may not seem like much, but this continues to verify the decline in the
CarGurus Index
.
A Free Vehicle Runlist of Local Sellers
A new opportunity for an edge on the competition with unique insights into local private vehicle trade-ins, prices, and volume.
Every day, we see dealers spending more of their time searching for local vehicle opportunities. The problem is typical sources miss out on sellers who aren't willing to create a full listing for themselves. Not to mention the time and additional cost it takes to sift through it all.
We're launching our free runlists to solve this problem.
Signup and receive
daily emails with an exclusive list of vehicles from local sellers looking to sell quickly. Get pricing insights so your store stays competitive in your area, and bid by email for those that catch your eye.
OEMs Report Q3 Sales: A Good News, Bad News Story
The C-suite folks at
General Motors
probably did fist bumps as the automaker topped Toyota in Q3 sales. Across all brands, GM delivered 551,976 light vehicles in this period, compared to 443,117 units during Q3 2021. That's a 24.6% jump, thanks to healthier inventory levels. All divisions, except Buick, produced sales gains. Buick's results dropped by 27.4%.
Combining Lexus and Toyota numbers resulted in a 7.1% YoY Q3 decline for
Toyota Motor North America
and a total sales of 526,017 units (versus 566,005 in Q3 2021). Lexus moved 16.7% fewer units, while Toyota brand sales fell by 5.4%
But along with the winners were losers.
Nissan's
Q3 2022 efforts slid by 22.6%. Other decliners include
Stellantis
(-6.4%),
Honda
(-35.8%),
Mazda
(-13.6%), and
Subaru
(-3.0%)
OEM data and Automotive News
Costco Discount Program Shifts Gears to CPO Vehicles
Costco's car discount program has always focused on new vehicles, but tight inventory and reluctant automakers forced the retailer to get creative. A two-month test that ended last month provided a $1,250 discount on 2019-2021 XC60 and XC90 CPO Volvos. The offering marks the "first time an OEM has participated and marketed their CPO offerings," Costco Auto Program manager Jay Maxwell told
Automotive News
. The publication reports that Costco has been trying to introduce CPO vehicles to the program since 2019, with Volvo being the first to jump on board. On the new car side, the automaker has been participating with the warehouse club since 2007.
Neither company has revealed how many of Costco's 118 million cardholders took advantage of the most recent car-buying discount. As of October 1, a
new promotion
offers a $1,250 savings on new 2022 and 2023 Volvos leased or purchased over the next three months.
CarMax's Q2 Is Filled with Ups and Downs
Mega auto retailer CarMax reported its Q2 2002 earnings (for the period ending August 31) and tried to put lipstick on a pig by citing a 2.0% revenue increase (to $8.1 billion) compared to last year's Q2.
But a dive into the details uncovers the unpleasantness of a 6.4% decline in used unit sales to 216,939 vehicles. But even with a 9.6% increase in the average selling price, the company could only eke out a $97 per unit increase in gross profit. On a comparable store-level basis, pre-owned unit sales fell by 8.3%, with revenue nudging north by 0.4% from the same period last year.
Showing that not even a used car giant like CarMax is immune from the industry's inventory issues, the company bought 8.1% fewer vehicles from consumers and dealers in Q2 compared to Q2 2021. CarMax did report success with its MaxOffer dealer digital appraisal service.
Florida Dealer Suing Porsche Over Alleged Franchise Law Violations
While the markets and the auto industry were focused on Porsche's IPO, a Florida franchised dealer filed a $300 million lawsuit against the storied German automaker.
News sources
report that Coral Gables-based The Collection claims Porsche's failure to fairly allocate vehicles stems from the dealer's refusal to build a dedicated Porsche showroom. The dealership contends that such a requirement violates Florida dealer franchise laws.

Give your dealership the upper hand with exclusive access to hundreds of consumer sellers in your area that you can't find on Craigslist or Facebook Marketplace.
Improve profit per vehicle with inventory direct from local consumers.

Focus on what matters with up to 5x higher lead-to-acquisition rate through our managed seller pipeline.