We hope you enjoyed the holiday weekend and, with luck, you're reading this while on vacation (It's tough to completely get away from work, isn't it?). But reality rears its ugly head as we cover the bleak news from automakers about Q2 sales. And there's word that the federal government is seeking to step up activity against dealers for unscrupulous F&I practices.
Let us know how we're doing and be sure to take part in our quick poll ; your participation really helps.
Cheers!
Market At A Glance
We'll keep this week's coverage of retail used car prices to a few sentences. CarGurus reports that the average pre-owned vehicle sold for $30,900. It's the second consecutive week for a record-setting price (last week's average was $30,806). Inflation and higher interest have yet to damper the second-hand market.
The market is in flux again and while the industry has held strong so far, it's hard to predict the future. Complete our quick ( < 1 min! ) poll below about how your dealership is handling the uncertainty to see how others are preparing for the future.
Automakers Deliver The Bad News About Q2 Sales
Fridays are notorious for when companies, governments, and others drop bad news. And Friday, July 1, was no exception as automakers used the start of the holiday weekend to release dismal U.S. sales reports. Normally, these companies try to put a positive spin on the gory details, but they didn't even bother this time.
Audi stated Q2 deliveries were "down 28% year-over-year" in its press release headline. The first sentence in Mazda's statement referenced a "decrease of 53.6 percent" in its June YoY sales. "American Honda Sales Challenged by Supply Issues" was perhaps the most artful way of describing a gob-smacking 50.7% Q2 decline. Grab some antacid; here are the Q2 highlights. Or should we say lowlights?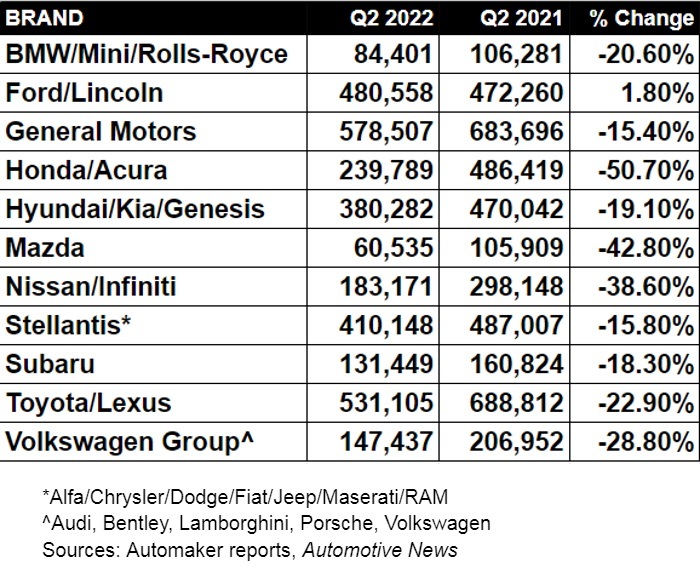 Most Popular Vehicle Types By State
We'll distract you from those painful Q2 numbers with intriguing data from iSeeCars about the popularity of vehicle types. And surprise, SUVs are not the bestsellers in every state. Passenger cars remain the most in-demand in five states. Curiously, these are all warm-weather places: Arizona, California, Florida, Hawaii, and Nevada. New York has more SUVs (53%) than any other state, and California has the highest share of cars (48.6%). And the heartland still loves its minivans (remember those?), with Iowa leading the pack with a 3.9% share of the road.
Feds Scrutinizing F&I Activities
A new proposal from the U.S. Federal Trade Commission (FTC) will expose car dealers to greater scrutiny. The agency wants to "fight deceptive advertising, crack down on bait-and-switch marketing, and put a stop to hidden add-on charges when consumers go vehicle shopping." In practical terms, this means:
A ban on bait-and-switch claims, including advertised discounts that aren't available to all purchasers. And promotions that don't include "the cost of add-on products or services" will not be allowed.
A prohibition on "junk fees" for products or services that fail to provide a benefit to the consumer. The FTC specifically mentions nitrogen-filled tires as one example.
Dealers must obtain clear, written consent from buyers for add-on fees. And dealers would have to inform consumers of vehicle prices without any optional add-ons.
A requirement for full upfront disclosure about costs and conditions. Specifically, a buyer would need to be presented with a final "offering price" except for taxes and government fees. And consumers would need to be advised that add-ons are not required as a condition for the transaction.
Guess again if you think the FTC isn't serious. Over the past decade, the agency has reported more than 50 law enforcement actions relating to automobiles and two nationwide sweeps resulting in 181 state-level measures. Earlier this year, a Maryland Kia dealer got hit with a $1 million penalty for alleged deceptive practices.

Give your dealership the upper hand with exclusive access to hundreds of consumer sellers in your area that you can't find on Craigslist or Facebook Marketplace.
Improve profit per vehicle with inventory direct from local consumers.
Focus on what matters with up to 5x higher lead-to-acquisition rate through our managed seller pipeline.
Get access to more potential buyers
Try it for your dealership today and your first 5 cars are free - Request Access
Dealer Essentials