Most men in their 50's or 60's today will tell you they grew up with a type of dream car. Out in the rural areas that would be more likely to be a classic corvette or a mustang. If you ask others near the coasts or in big cities, the answer is normally a Porsche. They may not be specific on the model but the brand is there. Something about that name, the driving experience, the feeling of reaching a huge goal gets people going.
Porsche knew it so well that they capitalized on it with the genius ad below asking "did you spend your youth dreaming about a mitsubishi?" They have always been very on point with their marketing and that's probably a big part of why they are still around. That, and their cars are built with unbelievable precision and care.
I Wasn't Part of the Dream
I'll stop fanboying here for a second to say that amidst all of that, I never grew up really caring about the brand. After years of auctions and car shows I was a fan of almost everything from classics to supercars, but Porsche just didn't quite interest me. I saw it as somewhat of the poor man's supercar. If you can spend $100k+ why not spend more for an Aston, or an R8 I would think.
Ah how the troubled youth think they know so much even though they've seen so little. What I was missing in my calculations was any sort of practicality. These were just thoughts and so they had none of those annoying 'real life' requirements. For instance, the fact that while 911's start at ~$100,000 new they are quite easy to get in the $80,000 range if you buy a used one. And that the 20, 30, or even $40k difference between that and an Audi R8 isn't as negligible as my young mind may have thought. These real life practical desires would hit me like a freight train as I began my first professional car shopping experience.
I started driving at 16 in Texas as many kids do and I bought a 2006 Mazda 3 hatchback manual that I loved and drove into the ground. When I graduated from getting my Masters in Electrical Engineering, one thing was on my mind - buy a fun, incredibly irresponsible car. If you had asked me in school why I wanted to be an engineer I likely would have told you that I just wanted to be able to buy nice cars. And I didn't want to wait to be able to enjoy that.
The Search Begins
So, for my 25th birthday present to myself I went out looking for the car that would fit the bill. I had upgraded my '06 Mazda 3 to a newer 3 Sedan and it was great (highly recommended for young drivers), but I wanted something fast. I started with the usual suspects - M3, M5, RS5, C63 AMG, RS7, R8, 911, GTR.
These are all great cars. I've driven most of them at this point and can say they all have the fundamentals of incredible driving machines and each has individual positives and negatives. The GTR, for instance, just felt a little too much like a race car that I would be having to control all the time vs. enjoying the drive.
Attempt 1 - BMW M3
I started with the BMW's and can say they're fun cars. Built to go fast, steady in the corners, and styled beautifully. I really WANTED to LOVE the BMW M3. It was exactly what I thought I should want at that age. Power, finesse and just that touch of brand notoriety that brings it all together. Somehow, though, I just couldn't get rid of the feeling that there were just so many of them out there. Maybe not the M3's specifically but your 328i's, the M packages, and on and on it goes. The relatively bare interiors on the BMW didn't help me either. Regardless, it just lost its charm in my eyes.
Attempt 2 - Audi S5, RS5, and RS7
I was pretty confident BMW was not in my future so I moved on to the other options, still not really thinking too much about the Porsche 991's that were around under CPO. I tried to convince myself to be reasonable and stick to a $50-$70k range, which locked me out of the higher options I mentioned above. After exploring some Audis, I thought those would be a pretty good option. I loved the brand, QUATTRO AWD, and they drove really nicely. Better yet, they lived in my 'ideal' price bracket.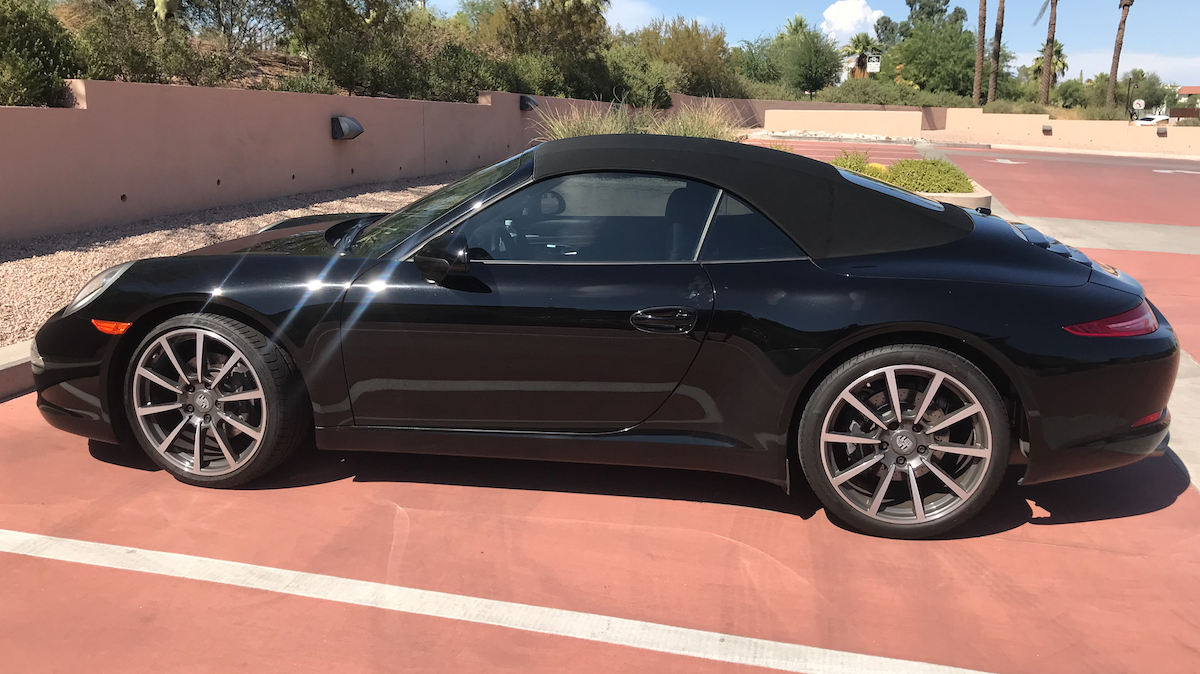 Attempt 3 - The Porsche 991
Well, as you might imagine, the Porsche allure managed to convince me to at least go check them out. After all, might as well get some free test drives in while you're shopping. So here I am, a 24.9 year old nerd in flip flops walking into a Porsche dealership after driving up in a used Mazda 3. I'm sure everyone there was quite confident I was not going to buy anything. Even so, a sales rep met with me and let me take a few of the 991's out for a drive.
Side note - props to Porsche North Scottsdale for treating me pretty well despite my age and look. I have other, much wealthier friends who have had issues with being stereotyped and then not helped at dealerships.
I was a lost cause for Audi the moment I plopped into the Black Porsche 991 that I would eventually buy. This was one of those moments where in the movies, the buyer would just blurt "I'll pay you whatever for it." Thankfully I didn't because I didn't really want to pay sticker, but I was truly amazed at how they had put so much practicality into that 2 door, 4 seat 2014 Porsche 991 convertible. Now, I don't mean practical in the everyday sense. It's not practical like having a minivan is practical for the family. Or like buying in bulk can save you money. But it's practical in the only way that matters to them and that is for someone exactly like me looking for that perfect high end car.
This car was by no means the fastest or the most powerful. The GTR and M3 would beat it off of the line and it didn't have that loud, deep exhaust note that rang from the other options. Sure it was fast, and it definitely sounded great, but it wasn't trying to overdo it on either. With 350 hp, 0-60 mph in 4.8s, and rear wheel drive it sat at the middle of the pack on pure numbers. That's my definition of practical. They are confident enough in the marque to know that the Porsch 991 doesn't need to scramble for horsepower or loudness against the competition.
In building their best Porsche yet, they focus on the overall experience rather than spec chasing (a term we use all the time in the tech industry for companies who just try to build products that beat competitors list of specs or features. Think Microsoft's Zune music player). A great example here is Apple with their Iphones. Samsung has been trying to market based on the specs of the camera, the harddrive size, etc but at the end of the day Apple cares about the only thing that actually matters and that is the customer experience.
The Convertible
There is a lot to love about the Porsche 991, but one of my favorite parts was the beautifully integrated soft-top convertible. Now, soft-top is a bit of a misnomer because it is actually quite hard due to the 3-piece aluminum contraption that joins together underneath the usual fabric top. This helps keep the cabin quiet, the fabric tight and sharp over the years, and allows them to make the silhouette of the vehicle almosttttt as good as the coupe.
The Pcar devouts out there are probably cursing my name right now, but so be it. Especially when you compare the Porsche 991 convertible to the S5 convertible that I also looked at. Sure, with the top down the S5 looks sleek and aggressive. With it up, I'm not sure I even want to drive in it. That's not just Audi here either - very few cars have been able to do with a soft-top what Porsche did for the 991.
From the moment I saw the car in the lot with the top up I knew I was in trouble. I actually loved the look of it even closed. Sure I spent most of the time with the top down in sunny Scottsdale cruising the desert streets getting headshakes from everyone who thought I didn't deserve my car, but I wanted something that I would struggle to walk away from anytime I parked it. This was that car.
The Handling
The best Porsche fans will tell you that once you drive one, it's hard to go back to anything else. That's why you'll see Pcar garages where the owners have literally bought the gamut of models (911, Cayenne, Macan) so that they can drive in one no matter the situation. I think a lot of this comes off to the outside world as snobbery or showing off. I certainly thought that growing up. It's just a symbol to prove you're wealthy. Well, going back to earlier if you want to purely show wealth, an Aston or Ferrari might be better than 2 Porsches.
Certainly people like that exist and it is just a statement piece. I generally just ignore those people. I think for the most part though, it's a real appreciation for the level of care and finesse that every Pcar is designed with. They just drive so damn well.
I'm not a professional reviewer and I didn't throw a bunch of G-sensors and gopros on my car to show you the numbers. I focused on finding a car that drove the way I wanted to drive. I live in 'sport mode'. I take every turn like it's the last on the Nurburgring. My 10 mile commute to/from work each day was probably my favorite part of every day. The Porsche 991 was the perfectly 'practical' yet most absurdly impractical car ever made.
Easy enough to get in and out of, not too low to be scratching the ground all the time, and a perfect blend of power and agility that I could not imagine giving up once I had tried it. It takes hard turns smoothly and even when it loses control in the rear, it does so exactly how you would want it to. The clutch is perfectly balanced and not annoyingly heavy during traffic but stiff enough for feedback when being aggressive.
Conclusion: The Porsche 991 might be the best Porsche ever… for now.
I didn't want something that could just go fast straight. I didn't want something that just had a convertible. Or would blend in amongst a sea of other German imports. At the same time I didn't need to be the fastest or most luxurious. What Porsche does so incredibly well is they take the best parts of each category and combine them into what is - in my humble opinion - one of the greatest cars ever made.
The Porsche 991 will forever be marked as the generation that converted me from a skeptic to a believer. Now - as is true with all fan clubs in centuries past - I must spread the gospel that is Porsche.
---