Last year I was driving a 3-year-old car with less than 20,000 miles on it. Just about the opposite of the title photo. I bought it for a commute. I wanted something good on gas mileage, a quiet cabin on the highway and a good speaker system for podcasts and music. I definitely knew the value of research.
My Chevy Cruze had all of the above. It could achieve 50 mpg on the highway and was engineered specifically to limit road noise with an excellent audio system. Sadly, somebody going twice the speed limit crashed into me and it was totaled. This isn't an advertisement for Chevy, the car just happened to fit my needs.
This was during the coronavirus shutdowns and work was scarce, so I simply went without a car for a month. I was searching for the sweet spot of an older car but well maintained that is so hard to find these days. Eventually I ran out of time because I was starting a new job. I bought my 2001 Mitsubishi Galant GTZ for $1,000.
It immediately needed rear brakes, $350, valve cover gaskets $725 and a tune-up. By the way this is a good opportunity to define " tune-up " because it can mean many things. It is sort of a blanket term for preventative maintenance.
Essentially you typically get new spark plugs, wires, check the battery and all the fluids, you might get a tire rotation, change the oil and filter. Any parts that are beyond their useful mileage or age should get replaced as well.
It is a good idea to get it done on a car that has been sitting for a while and honestly unless the previous owner has receipts for having this stuff done, best to just do it. I learned pretty quickly that there was a whole different skill set when buying an older car from a private seller. It became less about features desired and more about practicality and detective work.
Questions to ask the seller before making a trip out to see it:
These days, there's a fairly high chance your first contact with the seller will be online, before you spend the effort to drive out, ask the right questions to make sure it's worthwhile.
Ask for the maintenance history and how many owners. Sometimes they were lied to, and they think they are the second owner when really, they might be the 6 th . Sometimes if they say single owner and you run the Carfax and it says otherwise, they were just trying to make the car more appealing. It's hard to know who is not telling the truth, but either way you know somebody lied along the way. One thing you can do is call the shops that worked on it and see if they have any records or remember it.

Ask what they used it for. If it is a truck and they were hauling heavy loads and never replaced any of the suspension parts, they may be due for work soon. If the miles are higher sometimes this is because it was used for a long commute but if it was highway miles, this isn't as bad.

Ask for any receipts, where they got the work done. Not everybody keeps receipts and work orders, but it definitely tells you something about their conscientiousness.

Ask why they are selling it. Gauge their reaction, are they relaxed? Do they appear tense or break eye contact? There are common stories used to settle this question such as, "it is my grandmas car, and she doesn't drive anymore but only used it to get groceries." Don't accuse them of lying but if it has flame decals on it, the story might not be true. They might simply say they wanted to upgrade or needed a bigger or more practical vehicle for a growing family.

Run the Carfax history and review it thoroughly.
After much ado trying to find another option, my advice currently is to run the Carfax. While there is a free vin check website, the information is extremely limited so while it hurts a little to spend 40 bucks on a report, it is well worth it because they pretty much have a monopoly on car information associated with the vin number.
This is not an endorsement, only my personal opinion from my experiences. Autocheck is supposedly better at tracking auction vehicles though so I'm sure other services have their strengths.
You should also make sure the title matches the vin on the car, and the person selling it is the actual owner. There is something called "flipping a title" where backyard " car dealers " will buy a car cheap, do some basic maintenance, then sell it for more. They do this without ever titling the car in their name to avoid taxes on it. This is a sort of legal gray area.
They do this to avoid being legally considered a dealer as well. They will often make up stories like it was their grandmas car or they are selling it for their neighbor, or they are moving and need to sell it quickly. Heed the warning, buyer beware. If something about the story behind the car seems off, question it, or better yet move on.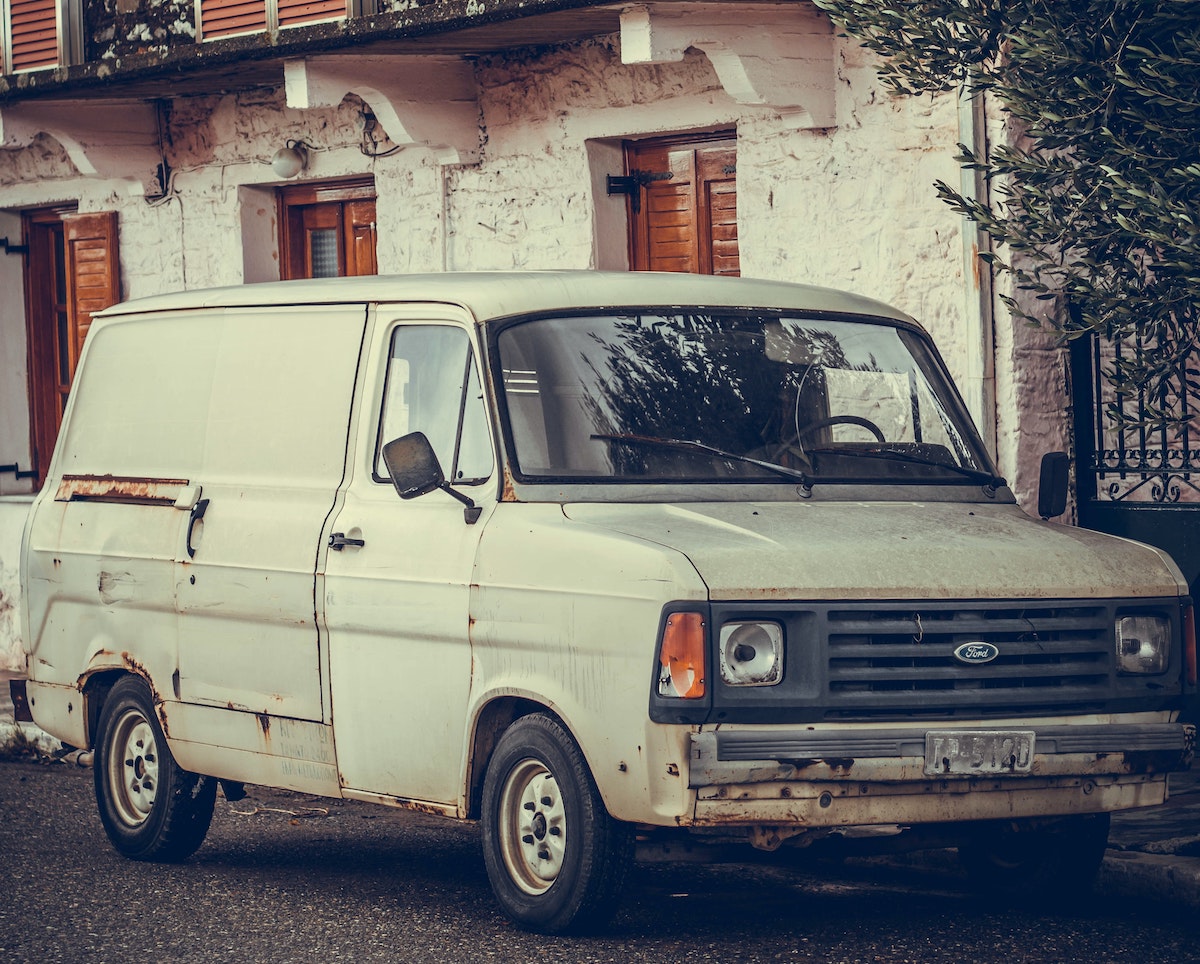 (Image of shady windowless van to convey a suspicious mentality)
Ask the seller for photos, under the hood, the chassis and even a video of starting and running the engine if they are willing. Assuming all of this checks out, get ready to go take a look. Make sure you bring a flashlight with you. A cushion to lay down on would be helpful as well.
Here is a list of things I recommend you check on your first lookover of the vehicle:
Air filter, cabin air filter, if this is very dirty it may reflect a careless owner

Check all of the fluids, also learn to look for foreign materials in your oil and search online for what they mean

Look for leaks

Battery, tires

Look for dents and dings that might reveal an unreported accident. Maybe the guy's kid hit a shopping cart and didn't tell him, if so it lets you negotiate down. This is something you should always do, even if you are friends with the seller, even if you know a lot about cars.

Look for rust, signs of neglect; if they kept their car very dirty it often reflects on their attention to other aspects of it, use all your senses and don't let them rush you.

If it smells bad, question why, it could have been owned by a smoker, could have an exhaust leak, might have a moldy HVAC system

Walk away if they get annoyed or defensive from your questions or try to rush you. This is a sure sign they are hiding something.

Test drive it. This should go without saying, but sometimes sellers are nervous about this. Sometimes they will want to hold the cash to do this. If you are comfortable with this, go for it, assuming the car seems good enough to spend the money on and passes all the other tests so far. Otherwise, many sellers will be okay with a photo of your ID.

Make sure it accelerates smoothly, brakes and handles well and all the accessories work. Don't play the radio while doing so, listen carefully for any noises that shouldn't be there.

Factor the work needed, if any, into the asking price and walk away if they won't budge
Even if it is exactly the car you want, heed my dad's advice. "There's always another car." The seller wants you to feel like they have something special oftentimes, don't let on if it is a model you have been having trouble finding, as this raises it's apparent value to them, and they will only feel more justified in their asking price. Rather, approach it realistically. Look up the bluebook value, account for any work it needs, know the highest you will go and don't go higher!
Last bits of advice
Aside from this list, make a point to do a full walk around the vehicle. Open and close all of the doors and windows and the trunk. Check underneath for rust. Make sure all of the seams line up and nothing is missing. Look for cracks in the windows.
Essentially you should press every button and open anything openable. Make sure to test everything.
While checking this stuff visually and testing is very helpful,  you really should get a pre purchase inspection done by a trusted mechanic . If they are serious about selling it they shouldn't have an issue obliging. Sometimes the seller is even willing to split the cost with you.
Trust me, save yourself the headaches I didn't save myself from. While on the bright side I have learned a lot about cars and am making the best of it. It's no fun having your primary form of transportation having issues and spending a lot of money on it.
Better to take a class or two on automotive technology or make friends with a mechanic and ask them if you can observe and assist them. Yet still, there is not much more motivating than the threat of being stranded without a car to get you to work diligently to figure it out.
If you are buying a used car, gather as much information about it as you can. Verify the information and don't let anyone bully you into making a purchase. This goes the same for a dealer by the way, not just a private seller, but a dealer is a whole other article.
If you do your detective work and leave no stone unturned, you'll find the right vehicle and drive away feeling secure in your decision. Happy hunting and try to enjoy yourself!
---