Let me start by saying this, I am no hater of profit or targeting a high-end market and charging as such. What I do hate is when businesses lean on that to implement unreasonable and shady tactics to pad their bottom line.
When I owned my 2014 911, I took it to the local Porsche dealership because I wanted to ensure it kept all its service intervals regular and tracked. They told me it was $800 when I first called them, and I agreed. And when I left, they charged me the price they quoted. I don't love paying $800 for what is essentially $80 worth of oil and a cabin filter, but that's the cost of playing with luxury cars.
My experience with Luxury Auto Works Austin, however, was very different. I walked in with a request to change a headlamp and check the AC. They were very friendly early on, which is great. And I appreciated the easy-to-find location and quick dropoff.
Fast forward to the afternoon, and I receive a quote for $7,800 . OK, fine. It's a 2014 Maserati Ghibli with a few things going on. They're just trying to be 'helpful' by pointing out those issues.
Supply charges fee: actually a fee on materials? Or just an extra charge?
Where it all goes wrong for me, though, is their 'supply charges' fee. It's a surcharge that sometimes gets tacked on at the end without any reference during the estimating process. Typically, it's a fraction of labor charges to ensure the shop doesn't lose money on extra equipment.
For the $7,800 service quote, the 'supply charges' fee is $99.
Hmm, $99 worth of gloves, lubricants, etc.? Doubtful, but fine. It comes out to ~4% of the total labor.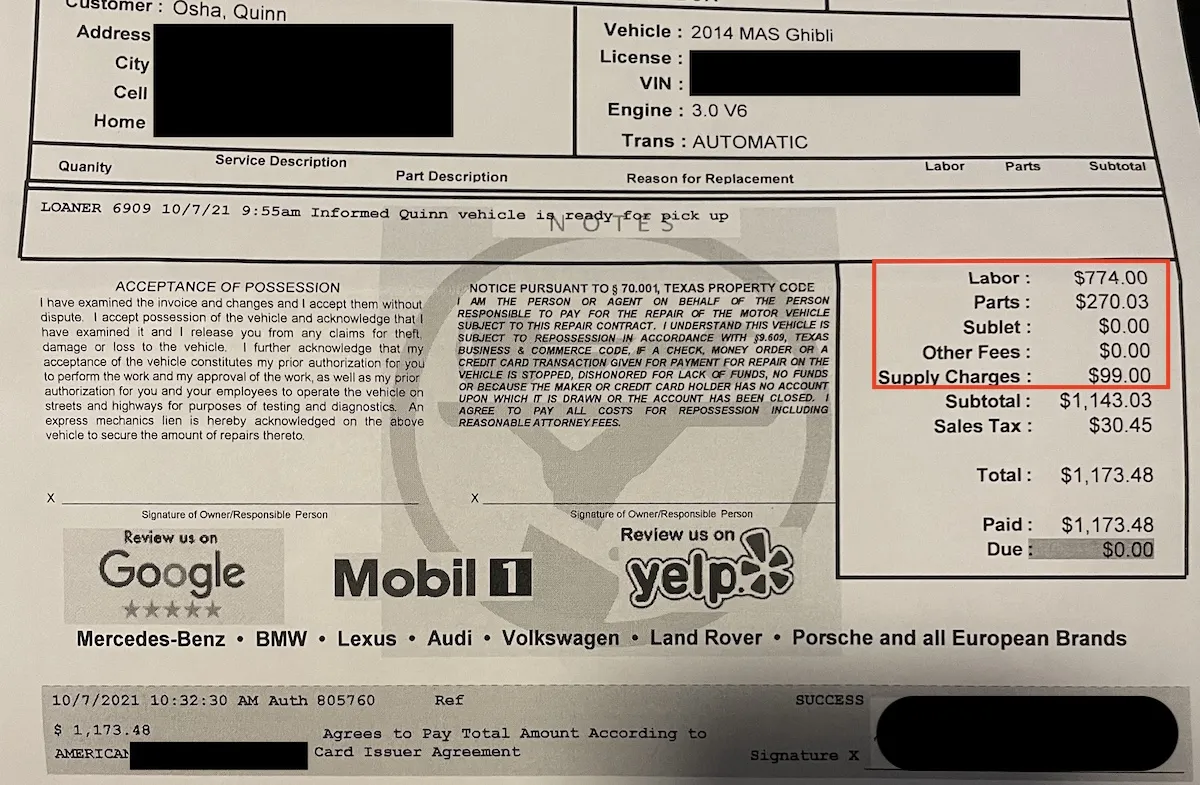 When I decline all but the services I actually requested, the total labor comes to about $750. Yet the 'supply charges' fee is still $99! That's a whopping 13.2% of the total labor cost. Let's not even talk about the fact that they charge $322.50 in labor to recharge the AC freon.
I was told that the AC check would cost $180 just for them to take a look, and I agreed. While I ended up just doing some of the services, had I not, that $180 would have actually been $279 with the flat rate supply charges fee.
Based on this calculation, the 'supply charges' fee is 55% of the total labor cost!
Adding 55% to a repair order without mentioning it borders on predatory.
If this is a flat fee added to every service instead of a sliding scale, it should be cited as part of the quote.
My usual response to this situation would be to jump on the phone and use my very often useful skills of applying a little pressure. I'd want the company to credit me back the fraction of the supply charge that applied to my actual labor cost. The problem is that I didn't particularly care about my $78; I do care about the principle of it.
Luxury Auto Works - The Example of What Not to Do as a Mechanic
Luxury Auto Works is a company that operates in a way they know to be questionable. Yet, they conduct business this way because it helps them make more money. It is a shining and perfect example of why people distrust mechanics so severely, which is unfortunate, given how many great ones there are out there.
When I fly on a plane, I always buy a bottle of water from an airport store before takeoff. The cost is an astronomical $4.50-$5 for what you could get for free by bringing a canteen and filling it up at a fountain. I prefer filtered water, so I eat the cost. I'm sure many of you do the same for the random things you put a value on.
What Luxury Auto Works does has nothing to do with being a high-end shop that just happens to be expensive.
People significantly more wealthy than me shop at places all over and spend countless dollars on things they want. Yet, I would expect even they would agree that having someone lie to your face and obscure the obvious truth under the guise of friendliness is hugely annoying.
It always amazes me when businesses operate this way because it doesn't make long-term sense. I was already taken aback by Luxury Auto Works' pricing across the board. Yet, I certainly would not have been more surprised if they had just added $50 more to each of the services they had already charged me.
Had they just stuck that fee in the price they actually quoted, I would have gone on my merry way. A fine experience, just a generally expensive one. Great.
Nope. Not enough for this mechanic shop. Gotta tack on the extra fee. OK, fine. Add the surcharge, but just let me know upfront, and I'll be totally fine with it. But that's not the case here.
OK, well, shit, at this point, what do you want anyone to say about it?
It's not the money. It's not the service. It's not the experience. It's that Luxury Auto Works is a shop that puts money over relationships from the very start.
If this company is willing to do that to me so happily from the first interaction, I'm afraid to think of what else they would be willing to do.
I want to trust the people working on my car, no matter how much it costs. The fact that they destroy that confidence from the outset means I'll always question their intentions, and I don't have the time or energy to deal with that.
My opinion? Find an indy repair shop with a solid owner and mechanics you can trust.
---